From:  BBC News Service (http://www.bbc.com/news/blogs-news-from-elsewhere-32736605)
All rights reserved to the author.
Kazakhstan's last full-size statue of Joseph Stalin has been rebuilt after resourceful villagers clubbed together to raise funds, it's reported.
The statue was toppled not by revolution, but by a storm which whipped through the southern village of Eski Ikan last summer. It had stood for 60 years in tribute to the Soviet dictator who, despite imposing famine and oppression on Kazakhstan in the 1930s, remains popular among villagers as a war leader, the Otyrar website reports.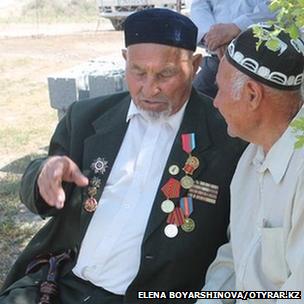 Over the years, locals resisted sporadic attempts by the Soviet and Kazakh authorities to dismantle it. When workmen first threatened it in 1956, after Soviet leader Nikita Khrushchev denounced Stalin's crimes, war veteran Bobojon Nishanboyev was among the many villagers who gathered to stop them. "We fought the Nazis with the battle cry 'For the Homeland! For Stalin!', and they wanted to pull down the statue!" he tells the website. "Over our dead bodies, we said. We stood firm, and we won."
Murat Yoldoshev's father helped haul the statue into place in 1954, and says the villagers bought the entire plot after Kazakhstan became independent, in order to protect it from the diggers. But not, it turns out, from high winds. Mr Yoldoshev says the authorities were unwilling to repair the statue, so the villagers turned to social media to raise funds. A businessman paid for the building materials and sculptors, local people sorted out the plinth, and an elder donated the land.
Not everyone in Kazakhstan is charmed by the story, judging by some social media reaction, but Mr Yoldoshev is philosophical. When an official asked him why he still cared about Stalin when that era is long gone, he responded that it "has nothing to do with eras". "My father put up that monument," he tells the site. "Let it stand – it is not up to us to throw it away. One day we will pass on, so let our children decide."